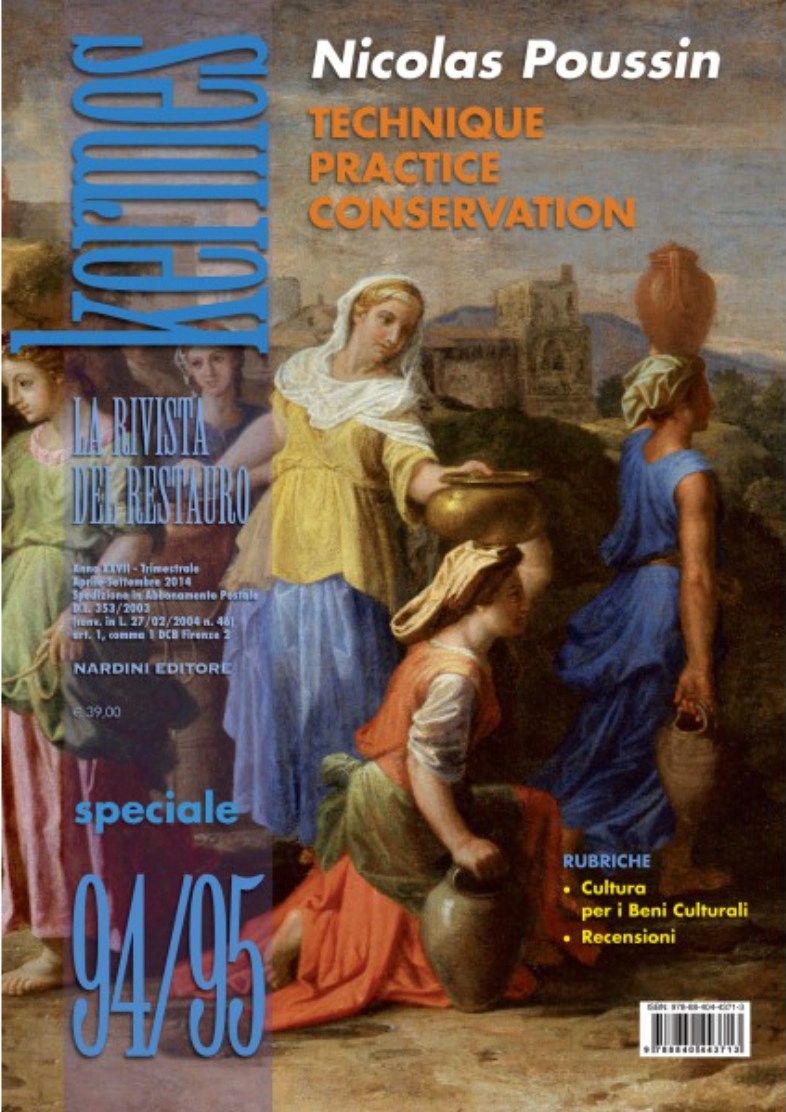 Un numéro spécial de la revue Kermes, paru en avril 2015, est consacré aux études interdisciplinaires concernant les oeuvres de Nicolas Poussin. Il est dirigé par Helen Glanville (LAMS) et Claudio Seccaroni (ENEA, Rome) et contient trois articles du LAMS.
Lien vers le site de l'éditeur Nardini Editore
Extraits des préfaces :
This publication is the fruit of a perfect and exemplary collaboration between curators, conservators and scientists brought together from all countries… The publication here before us provides a number of answers – let us be brave and use the word 'definitive' – to questions which have long been an issue of debate … Comme l'affirme ici même Sheila McTighe, toute vision plus large de la pratique de Poussin doit dorénavant prendre en compte et intégrer ces nouvelles données techniques.
Pierre Rosenberg de l'Académie française, Président-directeur honoraire du Musée du Louvre
This volume of the journal Kermes devoted to the meticulous technical analysis of several works by Nicolas Poussin, reveals the wealth of knowledge acquired through the implementation of new methods of physico-chemical analysis taken together with the detailed investigation of the handling and materials deployed during the process of creating the work of art. A number of different means have been employed in order to investigate in the greatest detail the nature of a particular pigment, its impurities, the effects of the addition of a medium as well as the effects created by mixtures …
Philippe Walter, Directeur du Laboratoire d'archéologie moléculaire et structurale, CNRS-UMR 8820, Université Pierre et Marie Curie
Sommaire :
Helen Glanville, Claudio Seccaroni}} – Nota introduttiva dei curatori / Editors' Introductory Note
Pierre Rosenberg – Du progrès en histoire de l'art / On Developments in the History of Art
Philippe Walter – Combiner les regards sur les œuvres de Nicolas Poussin / A Combined Vision of the Works of Nicolas Poussin
Sheila McTighe – Poussin's Practice: A New Plea for Poussin as a Painter
Helen Glanville – Nicolas Poussin: Creation and Perception
Paolo Bensi – Supporti e preparazioni: aspetti delle scelte esecutive di Poussin a confronto con le tecniche pittoriche dell'ambiente romano (1620-70)
Chiara Merucci, Claudio Seccaroni – Qualche osservazione sui Baccanali di putti della Galleria Nazionale d'Arte Antica in Palazzo Barberini
Marcia Steele – Transmitted Light Infrared Imaging of Two Paintings by Poussin at the Cleveland Museum of Art
David Piure – The Cleveland Museum of Art Painting Conservation. Transmitted IR Photography Setup
Sophia Plender, Aviva Burnstock – Technical Examination and Conservation of The Triumph of David by Nicolas Poussin
Laurie Benson, Carl Villis – The Crossing of the Red Sea in the National Gallery of Victoria, Melbourne
John Twilley, Nicole Myers, Mary Schafer – Poussin's Materials and Techniques for The Triumph of Bacchus at the Nelson-Atkins Museum of Art
Jean Cadogan, Stephen Kornhauser, Patricia Sherwin Garland – The Crucifixion by Nicolas Poussin in the Wadsworth Atheneum Museum of Art, Hartford, Connecticut
Rikke Foulke – The Holy Family with the Infant Saint John the Baptist and Saint Elizabeth
Laurence de Viguerie, Philippe Walter, Helen Glanville – Some Preliminary Remarks on Nicolas Poussin's Painting Technique in L'Orage: Complementary X-ray Fluorescence and X-ray Diffraction Study
Carol Woods Sawyer – Discoveries Concerning Poussin's Technique Made during the Examination and Treatment of Achilles among the Daughters of Lycomedes